History and Translation: Situated practices in the global context
The HTN 2023 Conference was held online 11-12 May 2023.
The conference was organized by the History and Translation Network, in collaboration with the Ivan Franko National University of Lviv (Ukraine), Tallinn University (Estonia), and the research project "Translation in History. Estonia 1850-2010".
The HTN 2023 Online conference
The conference programme included 5 panels with a total of 16 panellists:
We were also very fortunate to have a keynote lecture by Kayoko Takeda (Rikkyo University) on "Japanese military interpreters during the Russo-Japanese War (1904-05): Institutional language learning for Japanese imperial ambitions"
Why an online event?
The purpose of this conference was to give those scholars who had originally submitted a proposal for HTN 2022 in Tallinn but had been unable to come. All these scholars were invited to join this online event and 16 agreed to take part. This was also the reason there was no call for papers for this event.
People who attended
The conference proved very successful and attracted an audience of 180 participants (not including panellists or users that only listened by phone) from 29 different countries. An encouraging confirmation of the international scope of the Network.
Acknowledgements
We would particularly like to thank Tanya Escudero (Tallinn) and Iryna Odrekhivska (Lviv) for all the work they put into this event and for organising it so well.
The Network Meeting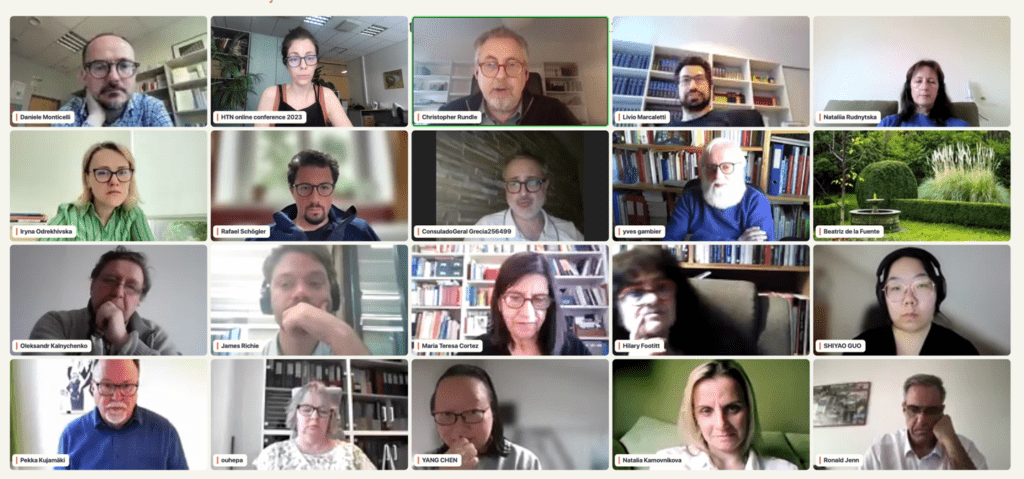 The conference was followed by an online meeting of the network to which all members were invited. There follows a brief summary of the topics that were discussed.
Work groups
Two names were considered for these groups: focus groups or work groups. It was decided to call them "work groups" — which was considered more appropriate to favour interdisciplinarity.
The WGs can involve people from outside the network (like-minded people that have some common interest).
The groups could collaborate on organising online public lectures, propose thematic panels for the Network conferences, etc.
The Network can provide access to the following resources:

An email and mailing list
A dedicated page on the website with editing privileges

Actions:

James Richie would be willing to start organising a regional subnetwork in the US.
Livio Marcaletti proposed initiating a WG on Music in translation / Opera in translation.
Yves Gambier suggested a WG on Archives.
Note: if you are interested in convening a HTN Work Group please see our Guidelines
HTN Conferences
As agreed in Tallinn, HTN Conferences will take place every 3 years. The exception is the next Network conference, HTN 2024 Graz, which is programmed 2 years after the previous conference in order to avoid an overlap with EST conferences.
Themes: Suggestions for possible themes can be sent to the info email of the network, but it was suggested that the conference should not be theme-focused so it can include various fields and topics.
Fees: The fees for the conferences will vary depending on the resources available. The conference in Tallinn had lower fees, thanks to the ""Translation in History. Estonia 1850-2010" project that covered part of the costs, but this won't be possible for other venues. No final agreement was reached on fees. Several options remain on the table, including: higher fees for established scholars and lower for PhD students.
Actions:

After HTN 2024 Graz we will have a call for bids to host the next conference in 2027.
When selecting hosts for the conference, one of the factors when evaluating proposals from potential organisers can be that they provide some travel bursaries, particularly for PhD students.
Prepare a series of criteria for the proposals before opening the call for hosting HTN 2027.
Online lectures and seminars
Pekka Kujamäki considered that organising online lecture and seminars would be a good way of providing resources for lecturers. He is already using some of the resources from the previous conference for his students.
The online lectures could be made available on the HTN website, together with other resources, such as the keynotes from the conferences. It will be necessary to get permission from the participants.
Daniele Monticelli suggested that, as a start, some interested members could put together a list of lecturers and colleagues working on a specific topic and some ideas for lectures, and the network can help contact them. It will also provide visibility for the events.
Actions: suggest on possible public lectures to be organised/hosted by the Network.
Multilingualism
It was agreed that the HTN conferences will be held in English only so they are accessible to everyone. The option of allowing use of the local language of the hosting venue was considered, but it was decided that this would create more difficulties in terms of providing access to everyone.
Other events organised under the auspices of the Network can be in any language. Organisers of such events are encouraged to provide either simultaneous interpreting or subtitles into English — but this is not a requirement.
The website is currently available only in English and it will continue that way. It simply isn't feasible to maitain such a large site in multiple languages.
The Manifesto is now available in English and French. It would be good to have it in more languages. During the meeting there were already some volunteers for translating it into other languages.
Actions: the following volunteered to translated the Manifesto:

Stelios Hourmouziadis into Greek
Beatriz De la Fuente into Spanish
Nataliia Rudnytska into Ukrainian
Yang Chen into Simplified and Traditional Chinese

Note: the manifesto is now available in 7 languages. Many thanks to our volunteers!
Exchanges
Ronald Jenn suggested using visiting programmes, like Erasmus, for enhancing collaboration inside the Network. He's interested in looking for some exchange. One of the activities derived from this exchange could be an online seminar/lecture for the HTN website. We could record the seminar as part of the public series
The network can provide connections
Other resources
Zotero library: good for those colleagues who have limited access to publications, journals, online aggregators etc.

Actions: Chris Runde agreed to set up a Zotero library accessible to HTN members so everyone can include their publications and make them accessible to others. If necessary, he could provide an online tutorial on using Zotero.

New development in the members directory: it is now possible to search for keywords as well as names. A keyword search will list all members that include that keyword in their profile. Improvements will be made in the future to make it easier to find people with common interests.
There is a form that allows members to submit an item for the newsletter. Available once you have logged in the members area.
Tanya Escudero: it would be useful to setup a shared folder where members can access some design resources to help them advertise their events and initiatives as part of the network, e.g.: logo, codes of HTN colours, Word templates, maybe templates for slides.
Social Media
It was agreed that the Network will not have official social media accounts.
Members who organise events under the auspices of the Network can publicise them on social media and can tag the Network.
For Twitter we can have a hashtag for the main events so we can give them visibility in social networks, e.g., #htn2024 for the forthcoming conference in Graz.
Rafael Schögler will send a text with a link to the Twitter list for the history and translation scholars that he created for HTN2022. This is the link to the list: https://twitter.com/i/lists/1529477197701992448